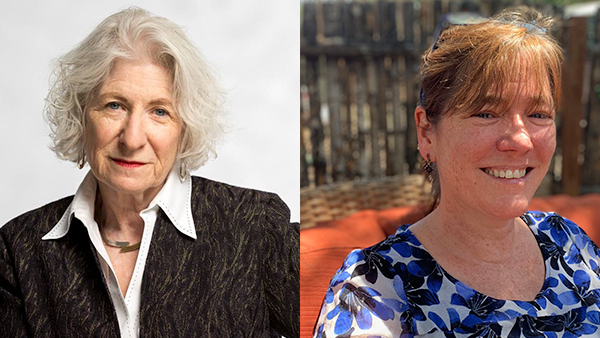 Mohamedou Ould Slahi, a Mauritanian national, was detained for 14 years at Guantánamo Bay. He was never charged with a crime, although the U.S. government suspected him of involvement in the September 11th attacks. Two UNM School of Law graduates, Nancy Hollander ('78) and Teri Duncan ('00), represented Mohamedou between 2005 and 2016, when he was finally released. This incredible story will soon come to the big screen in the feature motion-picture, The Mauritanian. The movie will be released in theaters on February 12, 2021 and will be available for streaming in March 2021. You can watch the trailer here.
The film is based on Mr. Slahi's 2005 memoir, Guantánamo Diary. The story comes to life through an all-star cast, including Jodie Foster (Nancy Hollander), Tahar Rahim (Mohamedou Ould Slahi), Shailene Woodley (Teri Duncan), and Benedict Cumberbatch (Lt. Colonel Stuart Couch). The film follows Mohamedou from his arrest in Mauritania through his detention at Guantánamo. Nancy Hollander makes the tough decision to defend this suspected terrorist, while the government, led by military prosecutor Lt. Colonel Couch, attempts to build a case against him. As the prosecution and the defense learn about the frail evidence against Mohamedou and the extreme interrogation techniques he endured, both parties question how the United States can justify his detention.
Nancy had previously worked in national security for years, and had experience defending against charges of terrorism in Ireland. Emanuel Altit, another internationally acclaimed attorney who taught with Nancy at the Hague, approached her about defending Mohamedou. Nancy initially hesitated—she believed that what happened at Guantánamo was so unconstitutional that she could not get involved. There were no trials, no lawyers, and no rights for the detainees. For the same reasons, Nancy decided to join the fight. Teri, who worked at the same firm, was eager to help.
Teri recalls the difficulty of visiting Mohamedou at Guantánamo, and how terrible it was to say goodbye to him each time she had to leave.  They would spend two full days together every two or three months, and they got to know one another well. Teri felt heartbroken and infuriated by the injustice Mohamedou was experiencing. As painful as it was to see a good person suffer, both Teri and Nancy feel happy to have vindicated Mohamedou and gained his lifelong friendship along the way.
Poster for upcoming film The Mauritanian
Teri wanted to guide and inspire budding lawyers in the same way she had received brilliant mentorship from people like Nancy. During Mohamadou's case, she and Nancy returned to their alma mater to ask UNM Law students for help. In 2016, Mohamedou was facing a hearing with the Periodic Review Board, which would determine whether he still posed a threat to national security. A handful of students in the National Security seminar combed through interviews and statements made by other detainees who had successfully passed through periodic review. They detailed their findings in a report that helped Nancy and Teri prepare for Mohamedou's hearing.
Nancy and Teri's efforts and their ongoing commitment to our Law School community are extraordinary. They epitomize the potential of the education we receive at UNM and light the way for future Law Lobo alumni to do amazing work. When asked if she had any advice for current UNM Law students, Nancy said:
First, lawyers need to realize that they have the incredible power to effect change. We never have to accept the status quo—we have to know the precedent and know how to get out of it. Second, never give up. Miracles can happen. They will not happen every time, but go everywhere you can go, do everything you can do, and never give up.